ABOUT US
BOARD OF DIRECTORS
Richard Hodges, Chairperson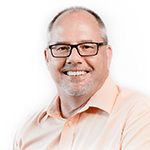 My sister Marilyn has been under the care of Community Living Selkirk (CLS) since 2000, shortly after my family moved to Selkirk and she followed with us. I was pretty naïve about the system, assuming that she would automatically have a place to live, and I learned a lot at that time about the important role that Community Living (now Inclusion Selkirk) played.
I've always been a believer in being involved and giving back to the community. Since CLS was doing so much for us, I felt that I should contribute, and so, joined the board sometime in the early 2000s. It is great to be part of a caring, capable, forward-thinking organization that provides so much to Selkirk and the surrounding areas, and indeed also to the field of caring for individuals with intellectual disabilities.
I work at the University of Manitoba, and my past few years have been spent with my wife raising three children. Our hobbies have included chasing them around watching hockey, volleyball, basketball, lacrosse etc. With their heading off to university, my spare time has increased and I've taken on the Presidency for CLS. I look forward to continuing to work with them in the future to continue to provide the services needed and to plan for the future.
Bonnie Singleton, Vice Chair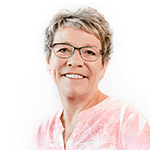 I have been associated with Community Living Selkirk (now Inclusion Selkirk) for approximately 4 years, initially as a parent transitioning my son from high school and more recently as a board member.
I have always been impressed with the passion, energy and commitment that the staff at Inclusion Selkirk display when doing their jobs. I joined the board to be a part of this energy and to advocate for the people we serve. I am very excited to see what the future holds for Inclusion Selkirk!
"Nothing is impossible; the word itself says I'm possible!"
-AUDREY HEPBURN
Tyler Farrand, Secretary
Bio coming soon
Linda Paluck, Treasurer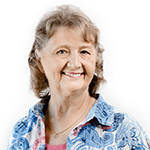 I have been on the Board of Community Living Selkirk (now Inclusion Selkirk) since 1999. My mother was a life member and had been on the Executive from the early 1970's until the early 1990s when her health deteriorated. The members of that time worked hard to improve the lives of their family members and others – they were an inspiration.
I have a brother who has an intellectual and physical disability and he is very special to me and our family.
I joined Community Living to ensure he (and others with an intellectual disability) was able to live the best life possible. I have been involved in several facets of the organization through the years and have enjoyed the people I have come to know. I am also pleased with our Board and staff, how well they work together, and how far we have come in the last 16 years.
A few years ago, I was able to take Terry and two of his friends on a trip to Churchill, MB. Thanks to my brother who arranged the trip, we were able to fly to Churchill, stay for two nights, see polar bears from the Tundra Buggy (everyone even had a turn at driving!) and see the other sights in the area at a reasonable cost. It was a great trip with a lot of wonderful memories for all!
I have remained involved with Community Living because I believe people should be able to live in their own communities, near family, and do the things that make them happy.
Kyle Webb, Director at Large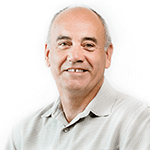 I have been on the board of Community Living Selkirk (CLS) efor about 10 years. I joined the board because I have a younger brother who has been in one of the Community Living Selkirk homes since around 1974.
This organization was a Godsend for our family back then, and even more so today. My brother loves being a part of CLS (now Inclusion Selkirk). I want to do my part to make sure Inclusion Selkirk continues and thrives in the future.
I enjoy being on the board and being a part of making life better for all the clients we serve in our residences. We have grown and have seen many good changes in the services we provide for our people.
I worked for Manitoba Hydro as a Fleet Technician 30 years. I repaired equipment and later wrote specifications to purchase Hydro fleet equipment. I enjoy hunting deer, moose and elk. I enjoy the great outdoors and the beauty that I experience when I am hunting in the wilderness. I golf, and I enjoy wood-working and making furniture.
Looking back over my years of volunteer work and service I like to think I have made a difference for the better, in our world and in the lives of the people I may have touched along the way.
Colleen Wor, Director at Large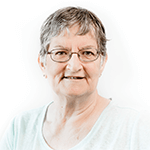 I became a board member of Community Living Selkirk (now Inclusion Selkirk) when my daughter was still in high school, around the year 2000.
I was always interested in people with special needs, even before having my own child with Down Syndrome. I joined Inclusion Selkirk to keep in touch with what was available in her community and to offer support around issues and concerns that affect those living with intellectual disabilities. I want to support these individuals to become contributing citizens in our community and to ensure that they are treated with empathy and respect.
I enjoy being part of a progressive board with a variety of backgrounds … all with valuable views, insights and ideas to better serve the needs of those living with intellectual disabilities.
I'm a retired teacher, wife, mother and grandmother.  Family is my most important and enjoyable vocation, and I am busier than ever!
Steve Grahame, Director at Large
I have been a board member for the past 15 years. My family has had a long history of working with Community Living organizations in Winnipeg and Canada.
My brother John Grahame had Autism, and my parents were big supporters in the push for inclusion in both the school and the community. As a kid growing up, this was a topic of conversation around the dinner table, and the inclusion philosophy became deeply embedded in my own personal philosophy.
As a teacher, I have worked in the regular classroom as a resource teacher, and I've also worked as a special education teacher, a teacher of at risk students, and a Vice Principal. I am currently the Director of the Lord Selkirk Education Centre.
I have a firm belief that inclusion in all aspects of the community is paramount for a successful community on all levels.
Kerry Swanson, Director at Large
Bio coming soon
Russell Wasnie, Director at large
Bio coming soon
Caroline Riethoff, Director at large
Bio coming soon
Maria Freeman, Executive Director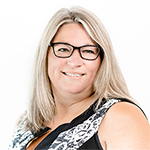 In 1992, I started working with Community Living Selkirk (now Inclusion Selkirk) as a program coordinator at the day program known as ARC Industries. I was fresh out of the Developmental Services worker program at Red River College.
I left work for a short time after having children and returned to an assistant manager position in the day program in 1995. As the organization restructured over the years, I moved through several roles and have been working as Executive Director for over 15 years. An interesting fact about me is that I was born in Wales, and moved to Canada when I was nine.
I am lucky that a work injury led me to change my path as I had not even thought of working in this sector. Once I became engaged, I found a passion that just keeps growing. My passion for this cause only grows when I see the joy and appreciation that some people have for life, even while they struggle to overcome barriers that many of us never face.
The best part of my job is working with people and seeing the growth and change over the years. I like the fact that I can never get bored – there is always something interesting happening on the horizon.
Join Us!
Please contact us to inquire about joining our Board of Directors.